One of the last six packs of this beer from Binny's. Tasted a couple times before rating this just to get something accurate down.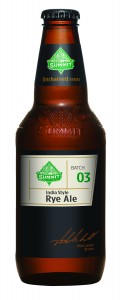 Appearance:
Very dark brown looking with a rubied hue. Head was strong and frothful (now a word) at first, but after 5 minutes, it dissipated into a film with a thick lining around the glass. Lacing is speckled, but not watery. Hardly transparent from the darkened color
Aroma: fruity with a nice rye spicing, as well as an oakiness about it. There are brief hints of alcohol to complement, followed by an equally assisting hop profile. The combination creates a boldly aromatic beer with a caramel/toffee malt foundation
Taste: And it was just that. Aside from everything the aroma revealed, the taste incorporated a smokey element about it, especially upon the finish. Roasted malt is another prominent character that follows the caramel malt and assists the rye spices right on to the finishing aftertaste which is somewhat dry and tannin based. Other notable flavors are especially wood like and roasted along with touches of chocolate malt and subtle spicing. Coffee complements the unique bitterness upon the finish. Complexity is fantastic and forever layered in numbers of flavor.
Mouthfeel:
Full bodied with a higher carbonation. This carbonation isn't aggressive by any means, nor does it spike the tongue. It is more so a nice microbubbled froth with something to say to the tip of the tongue and that's it. Tacky to the lips and mouthfeel is a little chewy
Overall Impression:
I'm thoroughly impressed by these unchained series beers by summit. Yes, their beer is quite basic and perhaps even style defining, but these...Test the waters with new and ancient ingredients while capturing very unique and palatable flavors. This beer is fantastic for the rye lovers out there, and perhaps even the hop heads. Certainly spicy and bitter, but a nice full sweet backbone to back it up
89/100