Tasted Monday afternoon following a 15 miler all the way out to Hampton. I received this beer from the Iowa City Brew Fest about a month ago.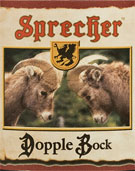 Appearance:
Muddied brown with a redish hue. The head isn't much of anything aside for a thin film set across the surface, that nevertheless is sustained after several sips. The lacing is also short lived as it remains very wet and sinks back into the beer. Clouded, though some carbonation can be seen if one takes a good hard look. The appearance reminds me of their
Piper's Scotch style ale
as well.
Aroma:
Dark bittersweet chocolate with a toasted complexity and hint of roasted dark malt. Some fruitiness present, but predominantly a grainy toasted malt sweetness runs throughout.
Taste:
Foretaste is sweetened of caramel, though it isn't until the end that the complexities of the malt really permeate through, revealing, along side the mild alcoholic burn a finishing toasted sweetness and roasty undertone, just as the aroma displays. There are also some peated earthy undertones, which are also complemented with notes of rye and oak. Again, at the end there is a rich character of both alcohol and roasted bitterness running parallel to eachother which in conjunction leaves a smokey taste at the end. Not very much of a lagered quality to it.
Mouthfeel:
Larger bodied with a medium carbonation. Smooth, yet drying. Not really my definition of refreshing, but still drinkable. some fizz at the end, but nothing extraordinary.
Overall Impression:
Really similar to that Piper's I tried a week ago. The malt is rich and sweet with a bunch of complex flavors. Nevertheless, I would have liked to see more toastiness as well as perhaps chocolate flavors in this and not so much the astringent earthiness that actually resides in the beer's finish.
80/100