I purchased this bottle from the Galena River Wine and Cheese Company over the New Years weekend. I was able to share it on Monday afternoon with Joe Wietlispach, Tim and Jen (and Liz) while enjoying a delicious Deer and Rice medley that Tim cooked up. I figured I'd bring this one over to share with several others due to the alcohol strength.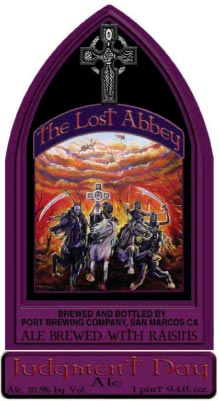 Appearance:
Served in a snifter. Huge beige head (frothed to the brim) with an underlying network of large soapy bubbles. A dense froth creates a peaking texture atop. The color is deep brown with a purple rubied hue. There isn't any light penetrating except when an ultra bright flash light is held to the glass.
Aroma:
There is a lot of oxidation at the front nose of the beer. Other notes of mildew and other alcohol oriented scents emerge. Plum and dark roasted fruits. There is a large concentration of high temperature fermentation yeast byproducts present.
Taste:
Plums and raisins are prominent right from the start in combination with a mild caramel and dark crystal malt base. Fruity esters remain throughout. Alcohol is quite apparent, yet well integrated into the beer. Generally, this beer is quite sweet. I think that a lot of extra sugar was used to boost the alcohol and reaching such a high concentration left still some residual sweetness, but not enough to play against the body. There is a faint note of chocolate the develops as the beer begins to warm.
Mouthfeel:
Ironically, the beer exhibits a lesser body than I would have expected. Like I said earlier, I think much of the easy-fermenting malt/sugar adjunct was fermented out (to give us our 10.5% ABV), while leaving some residual complex sugars for sweetness. Mouthfeel is smooth while carbonation remains low. Drying finish, not from hops, but from the ethyl alcohols.
Overall Impression:
Sweet and estery with a huge alcohol to match. Body was a lot lighter than would initially expect, but doesn't detract from the impression. The raisins are very dominant in the forefront of the beer, and slowly fade to the end. Certainly a sipper, but of different origin.
85/100