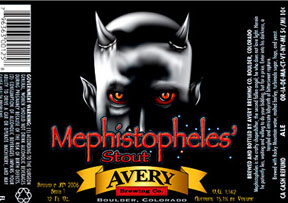 Thanks to Mike from
8th Street Grille
for giving me a bottle of this a couple weeks ago. The thought passed my mind of letting it sit and cellar for another year, but that idea was quickly abolished. Eamon, Andrew and I (and Pat) tasted this on Friday afternoon in the lab after dry hopping one of the tanks of Hatter (and while the rest of the crew was at the golf outing). We all brought to the table (or lab bench if you will) a rarity to share. Eamon brought a
Bourbon County Stout
from Goose Island, and Andrew provided a
KBS
. This beer however was a beast of its own.
16.5% ABV
A loud spritz introduces the beer.
Appearance:
Even after a vigorous pour, the beer produced a very minimal head, if that. Black in the glass, but a clear brown color as it streams into the glass. Still looking with a slight cream ring.
Aroma:
A rich biscuit chocolate aroma perfumes from the glass with a vengeance. The front of the beer is choked full of sweetness with notes of molasses, toasted wood as well as chicory and a touch of burnt toast. The finish rounds out with a chocolaty liquor and ethanol burn, though not overwhelming.
Taste:
The front again is consistently sweet with a thick syrupy maltiness. The taste is encouraged by a backbone of sugary maple and further, chocolate. Mid way through more of the complexities emerge, especially as it warms. Similar to the aroma, chicory and roast are prominent, but balanced by a sweet base. The second half merges with toasted grain and varieties of roasted coffee, chocolate, and spice. A burn rounds out the end but mellows as it warms the throat going down. The bite from the hops and grain tannins remain in the back of the throat for the aftertaste.
Mouthfeel:
It's what to be expected, the carbonation is thin and light, while the body is syrupy while the mouthfeel seems thin in some way, probably derived from the high alcohol content. The finish is drying and leaves a resin on the tongue.
Overall Impression:
I'm surprised at the balance this beer displays. For 16.5% ABV Mephistopheles is drinkable, but in no way gulp-able. The taste is one that is never worn out and consistently provides a robust flavor experience at every sip. A winter warmer and dessert beer. Again, I'm incredibly grateful to have had a chance to try this, a beer that came out as I was still in my first term of college!