My apologies for not logging the last 2 days. Thanks to Joe Wietlispach for picking this beer up a week or two ago. I received it during the Great River tapping of the Copper Ale. Tasted following graduation from Augustana college while waiting for a phone call for the address of a grad party that never came. Awesome.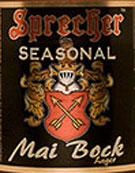 Appearance:
Transparent amber color with a consistently visible carbonation. The head is white and initially dense and foamy. Lacing is wet and sticky on the side of the glass.
Aroma: There is a very biscuity malt profile right at the forefront. A bit flowery with a touch of coriander and residual earthy smells. Some sweet caramel and a undertone of wheaty citrus, with maybe an orange zest.
Taste:
Initially, the malt flavor, like the smell, is extremely biscuity and malted. Boasts a huge grain malt backbone but with elements of
honey
. Surprisingly bready as well, almost to a dominating effect. Spicy with a bit of a coriander'd spice at the finish. Dry and a bit
grainy
. Some wheaty citrus at the end as well. Wood
bark
and tannins make for a very bittering character. As it warms, that gritiness/
wortiness
becomes more apparent, as well as an undertone of
butterscotch.
Mouthfeel:
Smooth and nicely textured.
Big body
where the carbonation is sensed towards the end. A little sticky. The feel is thick, but forgiving.
Buttery feel
.
Overall Impression:
This beer came more to me as a meal than a beer. It presented somewhat of an under-fermented beer. Starts bready, but leaves a grain husk flavor in the finish. Interesting, but only worth a one time try.
77/100