Thanks to at 8th St Grille for giving me a sample of this upon my arrival Monday morning (11am). I again have the second brewing shift at New Holland today, so it provided a free morning/afternoon to get in some beer reviews!
16.5% ABV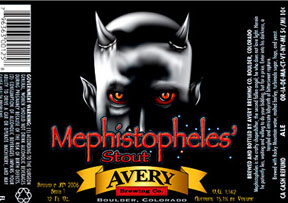 Appearance:
Pouring a deep dark black/brown color with a rubied/brown hue when held to the light. The head was extremely dense and well sustained with a creamy mocha color. Stature of the head was phenomenal, standing well over 5 minutes and throughout the taste. Lacing coats the glass entirely.
Aroma:
Rich and chocolaty with a huge malt base. Lots of caramel and toast, alongside a featured yeast scent and earthiness. Faint undertones of licorice and molasses are present, followed by an ever prominent woodiness. An incredible display of malt based aromatics.
Taste:
Worthy of a drop per taste is enough to blossom a huge flavor that rushes over the palate. The very beginning produces a faint woodiness at the tip of the tongue. The middle is full of malt, and thick syrupy sweetness. Maple, and brown sugar are alternative flavors that easily come through the thick chocolate/toasted malt bill. Alcohol is a nice complement to the huge body and enormous malt bill. Some vininess also appears at the midpoint, and transcends into a oaky finish with hints of roast and vanilla. I could also pick out subtle hints of licorice and liquor. The aftertaste is a breath of warmth with the re-emergence of the woodiness that was picked up in the beginning.
Mouthfeel:
The body is comparable to the alcohol...large and in charge. The oily thickness and velvety texture are the perfect compliment and what I would expect from a beer so big. Obviously a slick cloying coating is left throughout the palate with a stickiness on the lips. Alcohol is strong, but evenly balanced into the beer. Dryness is felt at the front roof of the mouth
Overall Impression:
I think this is the largest stout I've ever had (I have yet to try the World Wide Stout by DFH). Nevertheless, everything is in sync with a balancing character on all fronts.Best tried under an over the tongue for a complete flavor experience. Best enjoyed in small portions and shared. This isn't to say this isn't an incredibly delightful treat for special occasions.